Top singlovi
David Bowie - The Stars (Are Out Tonight)
Depeche Mode -Soothe My Soul
Zaz - On Ira
Mark Knopfler - Privateering
My Buddy Moose - Shine! Shine! Shine!
Muse - Panic Station
Queens Of The Stone Age - I Appear Missing
Lana Del Ray - Young And Beautiful
Thirty Seconds To Mars - Up In The Air
Bullet For My Valentine - P.O.W.
Top album
David Bowie – The Next Day
dvd preporuka
Iron Maiden - "Maiden England Tour"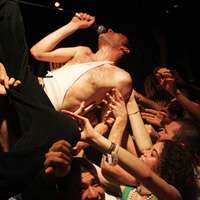 Beogradski hip hop heroji Prti Bee Gee praćeni domaćim snagama, High5-om i Tiborom, nastupit će u Tvornici kulture u petak, 14.03.2014.
Pročitajte cijeli članak
Objavljeno 11.03.2014. u rubrici Hrvatska i svijet
Jukebox
Omađijaj me - Let 3
Scary Feeling - My Buddy Moose
Kiša - Neno Belan & Fiumens
Histriatria - Sinteza
Temple of Faces - [mandelbrot set]
Pođimo na jug - Atmospheric
Vodena - Putokazi
Trag - Manofon
Videodrom
One Possible Option - Big Black Eyes




Vremeplov
"Dok ne odeš tamo gdje te niko ne zna, gdje ih boli kurac ko si i odakle si, gdje jedva skrpiš putne troškove, džabe ti je i My Space i MTV, nema te care, nema. Sviraj pred ogledalom i viči O-je!
Damir Avdić